Wellness Website Development: Healthyline
Wellness Website Development: Healthyline
Healthyline approached us with the goal of developing a user-friendly, e-commerce website for their line of heat therapy mats. Revolutionary wellness aids, Healthyline products appeal to a variety of businesses and individuals. As such, we needed to craft a solution that could speak to both Chiropractors in California and arthritic grandmas on Long Island. In short, the site needed to be aesthetically appealing and easy to use.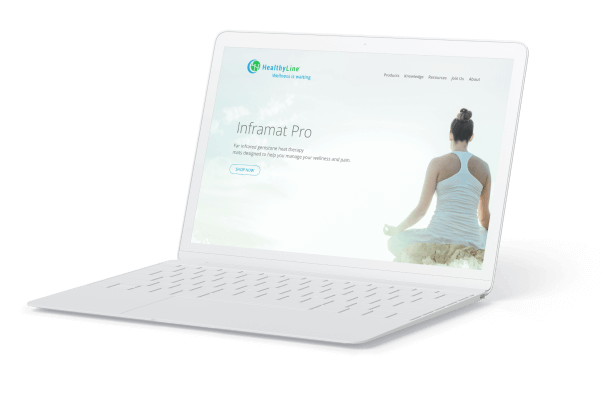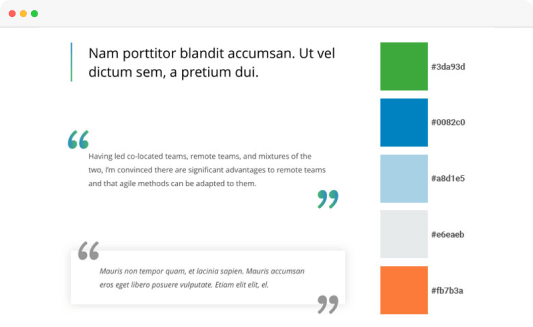 The User Interface Solution: Clean, Simple, and Helpful
The design team settled on a warm gray foundation, complemented by two blue hues — one light, one dark — topped off with orange and green accents. We based these choices on both visual appeal and color psychology. The blues are calming colors that convey dependability and professionalism. The green is representative of Healthyline's commitment to sustainability and natural healing. A shade that arouses feelings of warmth and excitement, orange proved the ideal final accent because it balanced out the color composition, making the site more neutral and universally engaging.
The Tech Solution: Custom WordPress with Woo Boost
From a technical standpoint, Healthyline's website needed to function and look fabulous on large screens, mobile screens, tablet screens, and every size in between. It also required an e-commerce back end with both search and affiliate capabilities. Our solution: a CMS WordPress base, outfitted with a WooCommerce suite and polished with custom template pages.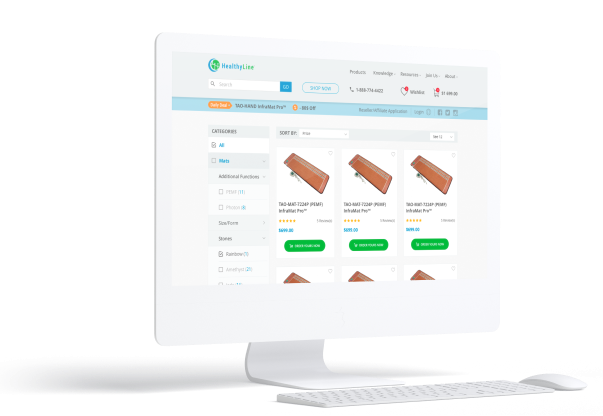 Search Capabilities: Custom Filter
Healthyline wanted people from around the world to find and fall in love with their products. To help them achieve their goal, we, the website developers, needed to build a sturdy and easily navigable online store. Our team accomplished this by combining WooCommerce features with custom interface pages. The result is an intuitive and fluid e-commerce platform with attractive product listings that can be easily updated.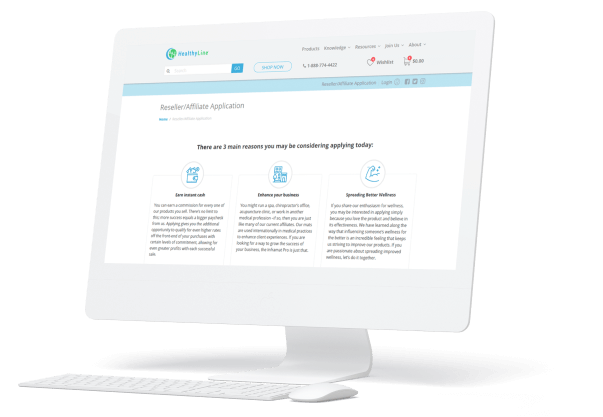 Built-In Affiliate Portal
The project's biggest technical hurdle that needed tackling was the affiliate portal. More and more often, users and brands are building symbiotic promotional relationships. Bloggers and website operators can easily monetize their sites by joining affiliate programs. And on the other hand, brands benefit from increased exposure, which typically leads to more sales.
Building Healthyline's Wellpreneur Affiliate Portal
Healthyline wanted a built-in affiliate portal so wellpreneurs could earn residual income through their site. To meet the specs, we used a custom programming solution on top of a WooCommerce foundation. The resulting portal includes powerful reporting tools and customization capabilities. Moreover, each affiliate enjoys a personalized control panel equipped with helpful and timely sales data. Additionally, the back-end manager allows promotional partners to create custom content, ads, and other marketing collateral. Web Design Sun is one of the best Healthcare Software Development Companies that can help to create a winning solution for any kind Healthcare kind business.
Our development team members are wellness website design experts.
Let's talk about your needs.
contact us today