Shopify Funnel Builder
Shopify Funnel Builder
For many years, Dan Dasilva has been working online with companies to build web pages that convert on click. It can be tedious work to test and re-test different messaging, features, products, and elements in the hopes of increasing your conversion rate. However, Dan Dasilva had gained so much experience in this field that he had become known for creating the optimal sales funnels in many e-commerce industries.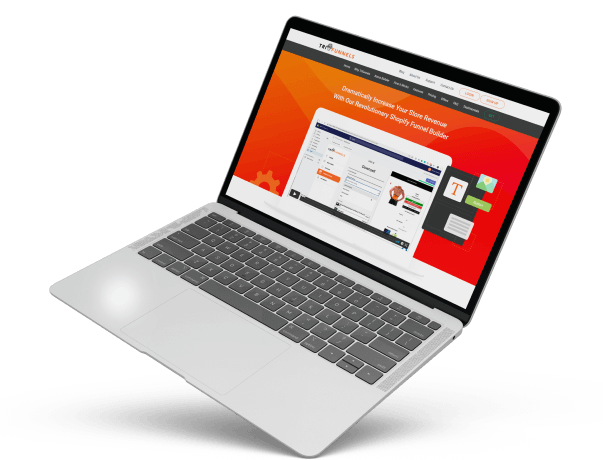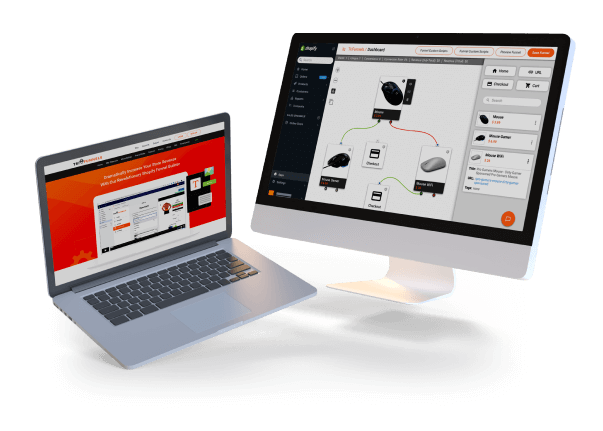 Creating TriFunnels Landing Page and Shopify Builder
Our web development and design team immediately understood what Dan Dasilva wanted to do with TriFunnels. With the right landing page, he could start marketing the web product directly to Shopify customers, in addition to his current clients.
We got to work setting up a bright, easy-to-read landing page that allowed users to quickly see why TriFunnels would be a great addition to their websites. For e-commerce, it's a no-brainer. TriFunnels can help you increase your sales, and it has a one-click install. These were some of the talking points that we made sure to include right at the top of the landing page.
Shopify Funnel Builder
You can easily drag and drop all of the elements you want in your funnel. You simply load in your products and add-ons with a one-click install, and then drag and drop the elements as you want them to appear in checkout to your shoppers. It takes minutes to set up.
Here is a quick rundown: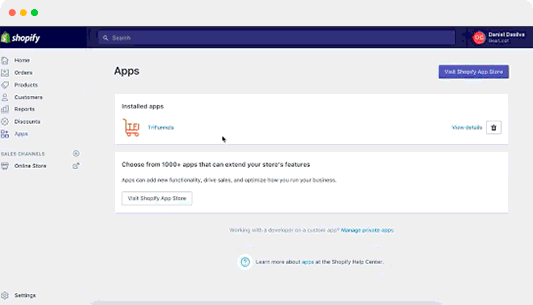 Set Up New Funnel
Type in the name of your funnel to get started. You can select which product you want to set up the funnel for and give it a name, as well as specify a URL where it can be accessed.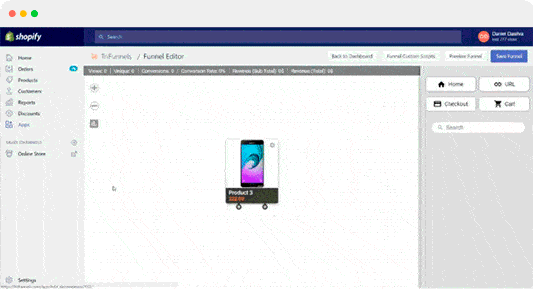 Drag and Drop Builder
You can then drag and drop elements into your funnel. You can select any number of products to show as add-ons and promotions during checkout.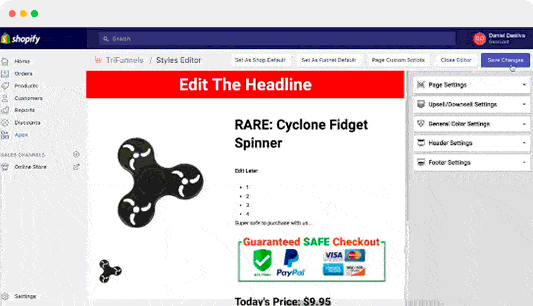 Finish Your Funnel
Once your funnel has been set up, you can push it live, then use the URL for marketing purposes. Your campaigns now have incredible, custom funnels that can easily be tracked.
Monitor Your Funnels' Success
With a high converting page, you can check out the progress of the funnel in your TriFunnels dashboard. This lets you look at visits, orders, and sales in one glance. You can easily track revenue of each funnel so you know which ones need to be paused, tweaked, or pumped up.
Customization is Key
We wanted users to be able to change every aspect of the funnel as well using a simple builder and selection tools. You don't have to know any coding to be able to customize the funnels from different products, images, text settings, CTAs, and pricing.
There are a few different options such as slider, buttons, quantity, timers, images, and descriptions that you can add throughout the funnel to make it look exactly the way you want and match the branding of your current store.
Technology We Used
We really wanted to build the entire package for Dan Dasilva and the TriFunnels team. This would include every aspect of development: front-end, back-end, mobile app, and multiple software integrations, particularly CodeIgniter.
In this case, TriFunnels really excelled because we used CodeIgniter to create a secure and sound structure, employ form validation, sanitize customer inputs, protect the store from CSRF, customized styling and formatting, caching, and duplicate functions. CodeIgniter made everything more efficient, secure, and effortless for our development team.
While creating a Shopify store is pretty simple, we were attempting to make something that would appeal to small business owners and e-commerce businesses that didn't have much experience with coding. You don't have to be a developer in order to create a high converting funnel any longer.
With our plan ready, we set out to build a landing page and mobile app that would make TriFunnels a top Shopify builder add-on in the e-commerce field.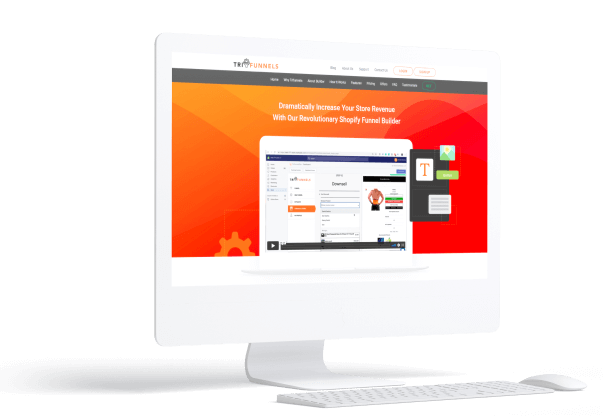 Landing Page Design: Adding Video and One-Page Layout
Most of the landing page uses sections and a one-page format to keep coding minimal and make it fast to load. We wanted users to immediately be drawn in to a quick video that shows how to use the online store funnel builder and how it can improve sales.
Users can click through the menu to see other important aspects about the software, including one-click install, unlimited funnels, drag and drop features, easy editing tools, and so much more.
We also wanted to make it clear that this builder worked with Shopify stores specifically as it was important to Dan Dasilva's marketing and business platform. The landing page had to be clean and simple to understand. Shopify customers are attracted to icons, simple messaging, and a clear call-to-action.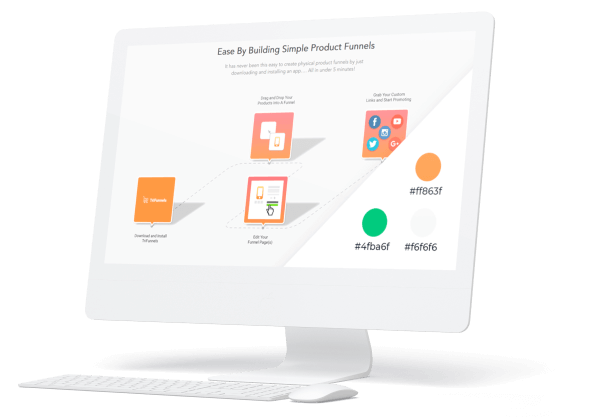 Colors, Icons, and Messaging
Part of the landing page that took the most time was creating a brand for TriFunnels that naturally built trust. While Dan Dasilva is quite experienced in creating different online sales funnels, it's difficult to show that experience in just a video as there are plenty of sites out there that do the same.
We set out to create a page that had all of the statistics, videos, trust logos, and messaging to help Shopify creators understand that TriFunnels really works because it was developed by people who know how to get conversions.
The site appeals to people who don't have much coding experience but who want to have the same checkout promotions and add-ons of stores.
Messaging was also important for the landing page. We wanted users to immediately understand the product and see how it would benefit their Shopify stores:
Easy to use builder
Drag and drop elements
Increases average order value
Allows you to track visits, sales, and revenue
Lets you add on promotional items easily
No coding required to set up and use
The Perfect Tool for Online Marketing
Online sales funnels have always been touch and go. You never know what products are going to go viral sometimes. However, if you plan on working with a strategy and have specific products that you want to sell, then you should think about using a funnel builder just for simplicity and high conversions.
It's a great addition to any Shopify store, and there are a number of benefits. For one, you don't have to spend time coding any new pages. You can use the templates set up by Shopify and TriFunnels to easily whip up incredible, mobile-friendly campaigns.