Milk Shirts: Building E-Commerce For Fashion
Milk Shirts: Building E-Commerce For Fashion
Milk Shirts is an innovative concept in men's fashion from a creative group of designers based in Hong Kong.
Founder Sheetal Pritmani is a Hong Kong native and a graduate of the London School of Design. While she was working in women's fashion with top London designers, Pritmani became fascinated with the wealth of detail that goes into creating the perfect, tailored men's shirt. Her vision became a reality when she founded Milk Shirts in 2015.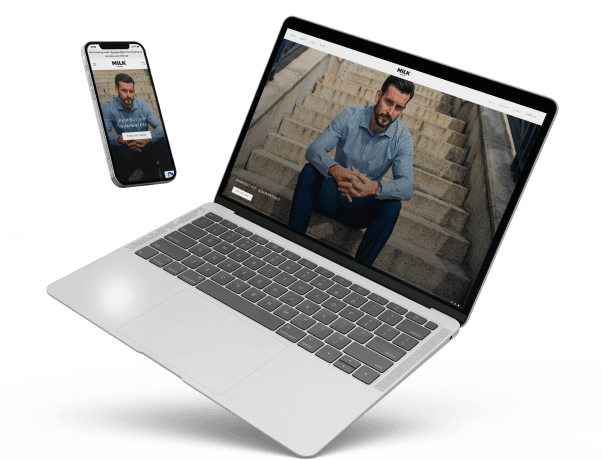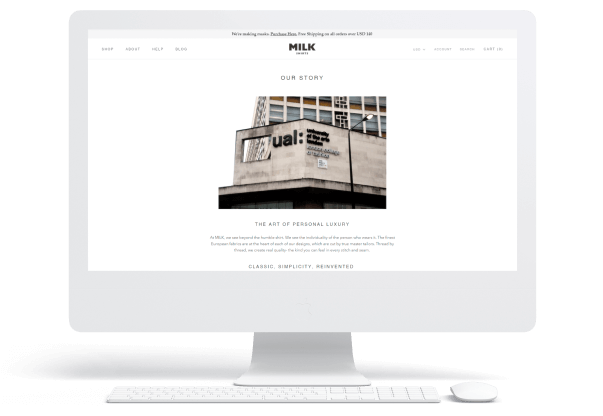 Creating a Luxury Shopping Experience
In an online world of fast, cheap fashion, Milk Shirts stands apart for its relentless focus on perfection. Milk Shirts has reimagined the tradition of custom-made, hand-sewn clothing for a modern shopper. Despite this reliance on timeless traditions, there is nothing staid or stuffy about Milk Shirt's image or designs.
Milk Shirts wanted to create a shopping experience as well-constructed, comfortable, and attractive as their hand-tailored shirts. Customers love the shirts, but they didn't love ordering from the company. It was tedious and time-consuming. Milk Shirts asked us to streamline the ordering process.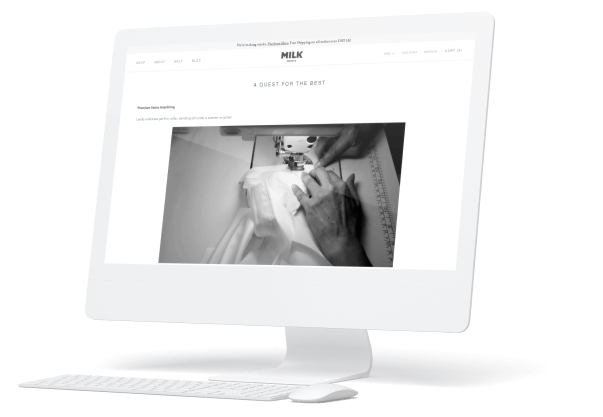 Timeless Tradition Meets Modern Edge
The company sources its fabric from three fabric mills in Italy. It uses pure Egyptian cotton and linen. Skilled Hong Kong tailors provide craftsmanship. These time-honored elements blend with a modern sensibility that makes each Milk shirt a statement that transcends trendiness.
The incredible attention to detail includes steel stays, single-needle stitching and monogrammed cuffs. The shirts come in three stayed-collar styles and a soft collar option without stays.
Clean, Uncluttered Lines
That image carries over to Milk Shirt's website, which offers an elegant, uncluttered look. The simple, neutral background allows the subtle beauty of every fabric to take center stage. When you visit the site, it's clear that you're being treated to an elevated shopping experience.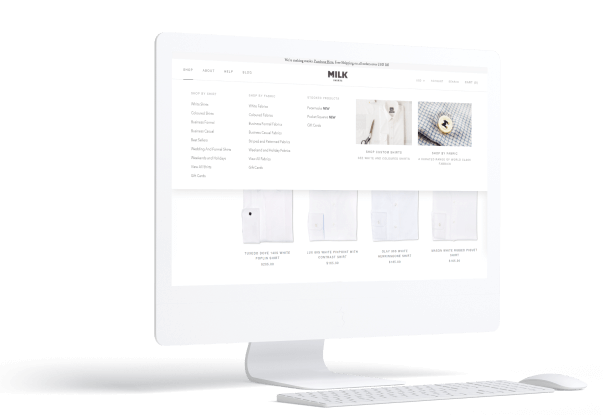 Create a Great Online Shopping Experience
We wanted to create an online shopping experience that would reflect that same aesthetic. Modern consumers may want timeless tradition in a shirt, but they want cutting-edge speed and convenience when they're ordering online.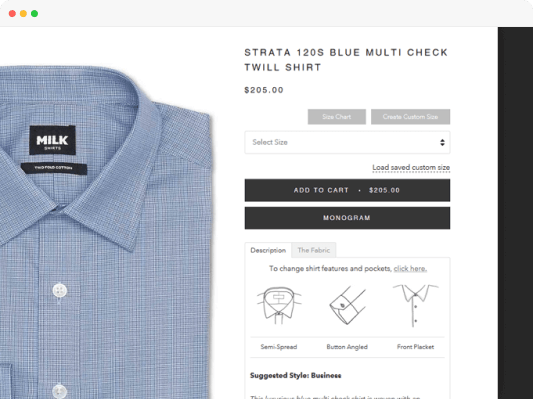 Our biggest challenge was modifying the Shopify CMS settings. Shopify allows customers to make up to 99 variations on a product. That sounds like a lot, but Milk's customers need more. Each customer has many options to pick, including:
Fabric choice and color.
Sleeve length.
Collar style.
Collar size.
Slim or regular fit.
Monogramming options.
Contrast or matching collar.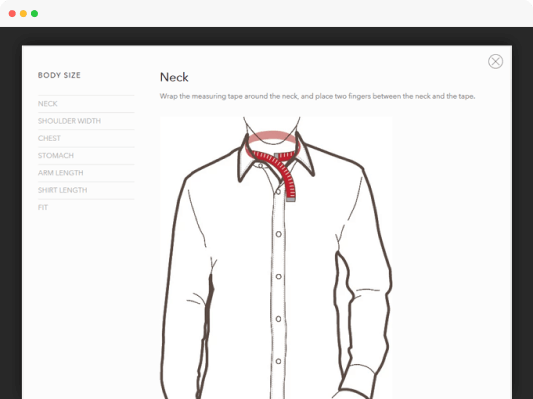 How We Made It Work
We created a shopping application that took care of those limitations.
We decided not to create a new plugin. Working with the Shopify CMS reduced our development time and allowed us to build on the existing structure. We created a way to add a huge number of additional fields without slowing down the ordering process.
Now, there are no limitations on the number of custom selections a shopper can make. It's fast and easy to select every detail.
Save Function and Wishlist
We made shopping at Milk even more of a luxury experience. A "save" function allows customers to keep their measurements on the Milk Shirts website. It lets buyers enter them once and save them for future purchases. Every time they order a new shirt, the order already includes their measurements. This functionality recreates the tradition of tailors who always have their customers' measurements on hand.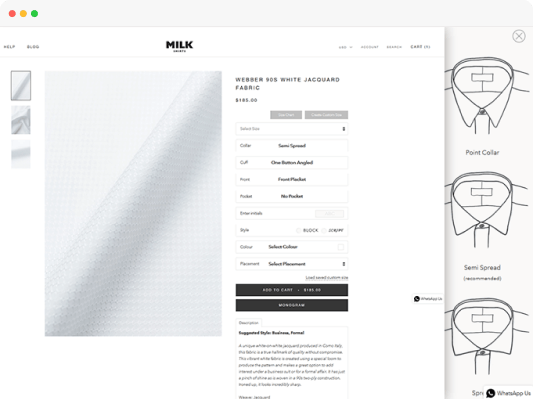 Our second extra touch was a "wishlist" function. Buyers can choose shirts they want to buy and add them to a wishlist. They can refer to the wishlist the next time they shop. Other people can use it as a gift-buying guide.Our updated Shopify CMS marks Milk Shirts as a company that delivers the ultimate luxury shopping experience.
Focus on Perfection
Milk Shirts chose to focus on one thing and do it to perfection. At Web Design Sun, we bring the same single-minded focus to every project we work on. We blend modern technical innovations with a bright, creative spirit. If you're looking for a way to take your website, Shopify CMS or business app to the next level, give us a call.
Let us help to build an exceptional website and you'll be well on your way to e-commerce success.
GET A FREE CONSULTATION