Developing Expert Industrial Website Design
Developing Expert Industrial Website Design
Industrial business design is often about services, quality, and testimonials displayed in a way that potential customers can see the results. For Vanaire, building a better website was also key in business development, product sales, and brand visibility. With a modern design, Vanaire would be able to market its high-quality products, as well as highly-rated services, online.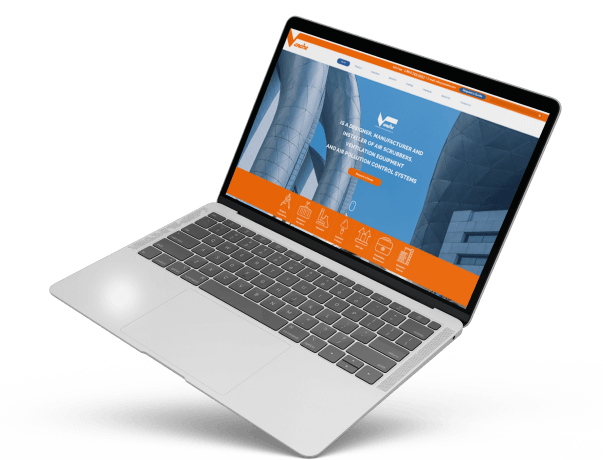 Manufacturing and Engineering Website Design
There were a few pieces to the design that we knew needed to be in place, such as conversion-driving elements like quote and contact page, as well as mobile responsive features. However, there were also some specific needs from the client as well.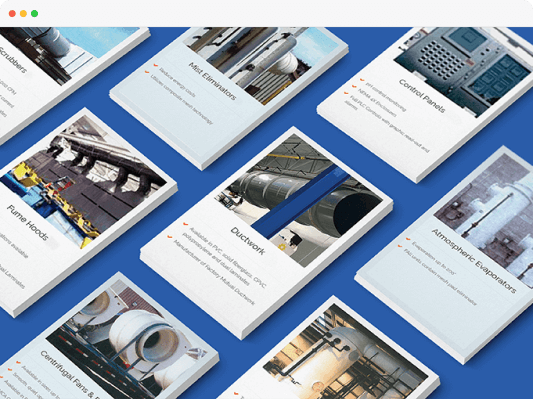 Client's Needs and Goals
Vanaire has a multitude of products and services that range from manufacturing to engineering to textile production. With the variety of industries that the company serviced, we knew that visual elements and a structured menu would make it more fluid for visitors to find what they were looking for.
In addition, we wanted to make sure that the website would convert new visitors into customers with bold CTAs like "Request a Quote" and easy-to-read messaging that promoted urgency and action without being too salesy.
Lastly, the colors, elements, and highlights also needed to coordinate that feeling of authority and trust in an industrial brand like Vanaire. We worked with the client closely to achieve an authentic design that matched their brand style guidelines and desired results.
Solution
Our design team started with a wireframe that would show the menu design and how each product or service would be represented on the site. We decided to create a unique icon set, as well as an advanced menu implementation to ensure that visitors understand that Vanaire was a multi-faceted engineering and manufacturing company that also specialized in air pollution control equipment, as well as other important equipment needs for their clients.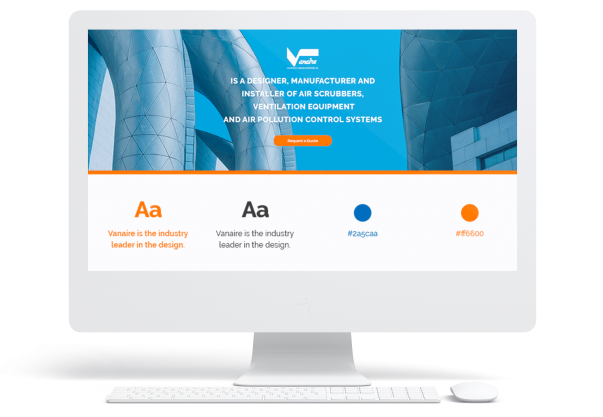 Color Scheme for Fabrication Website Design
The color scheme is meant to install trust from the first impression to the time you click on the page because of a responsive CTA in the right place. The main colors are orange and royal blue, with all of the CTAs and links being blue as well as the highlights on the menu. We wanted to make the links and menu stand out while also sticking to the brand guidelines for Vanaire. The logo stretches across the page to give people a sense of totality and structure that is woven throughout the other elements of the website, such as graphic design pieces and bold footer.
Color also captures emotions. Orange promotes conversions, while blue builds trust and security. The dark text makes it easier to read the website. When combined, the website delivers an impact based on courtesy, knowledge, and trust. This was important for the client's demographic, which is mostly directors and CEOs trying to manage a construction, engineering, or manufacturing firm.
We also wanted to make sure that we had a fair mixture of white space to isolate elements and draw attention to certain features, like the icon sets, CTA buttons, and forms. With this, we used the dominant color orange to frame out the page while accenting with blue as a secondary color.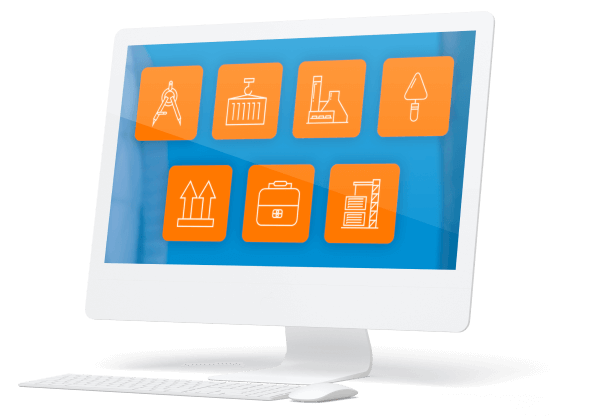 Eye-Catching Custom Icon Sets
With so many industries and client types, icons were the best way to group and classify what Vanaire does in a simply yet visually stunning way. The first was to create a set of icons for each service, such as design and engineering, installation and demotion, as well as fabrication. Each icon was designed using Adobe Illustrator so that it could be a responsive vector that would load well on desktop and mobile.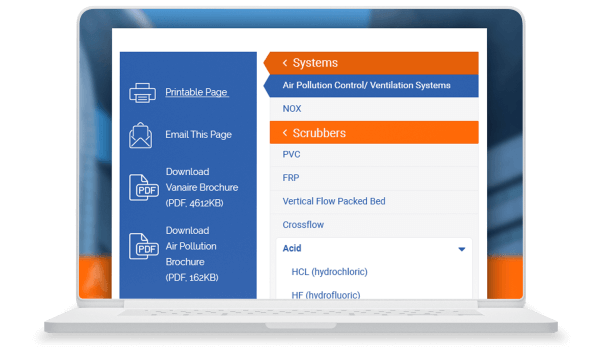 Advanced Site Menu Design & Implementation
Navigation planning started as soon as we took on the project. This is the best way for us to lay out the client expectations and see what pages are going to be tackled by which team members. The site structure was incredibly important to the client. We broke it down into the following main pages:
Products
Industries
Services
Leasing
Literature
About Us
Request a Quote
With the clientele that Vanaire attracks, it was important to clearly partner a main page with the most important products and images of those products so that were easy to understand. The menu is multi-level and responsive, breaking out into different sections that show the experience of Vanaire for each type of product, industry, or service.
We also wanted to make sure that the design was simple and easy enough to use as many of the visitors are not looking to be entertained but rather looking for a service. This means that the more information we can provide to gain their trust in the experience of Vanaire, the better chances were that they would reach out to Vanaire for help.
In addition, sub-pages also had their own menus that linked to the related pages so that you could continuously dig down into the site and explore a variety of services offered by Vanaire. Each page also had a CTA with request a quote to drive conversions and business development.
The form a the bottom of each page reverberates what is found on the website already, but now potential clients can take action by selecting different products or services they are interested in and providing their contact information.
Result
Even with over 60 pages of content, the website shows the authenticity of Vanaire's expertise. The website is designed to draw you quickly into Vanaire's products and services, while also empowering the user to purchase as the same time with a contact form on interior pages.
The content drives home the expertise of Vanaire, but it's also the design and icons that capture the eye, showing the reader exactly what's offered in their specific industries. Users can easily pick out what they want to learn about and take action after reading through the page. With manufacturing website design, you have to be a little bit austere in your approach to what's being offered as a service and how you handle the client's satisfaction. Most directors know in this business that it's all about what a company will do for their clients and the quality of their products.
Want to partner with us on your next web design for an engineering, manufacturing or other industrial business?
Talk to our business development team and let's get started on creating your conversion-driven online machine.
contact us today