eCom Academy Web Application Development
eCom Academy Web Application Development
When eCom Academy founder Dan Dasilva approached us for help developing an application that would transform the way Shopify users create and manage their online sales funnels, our web application development team created an online platform that serves as a student portal, course repository and so much more.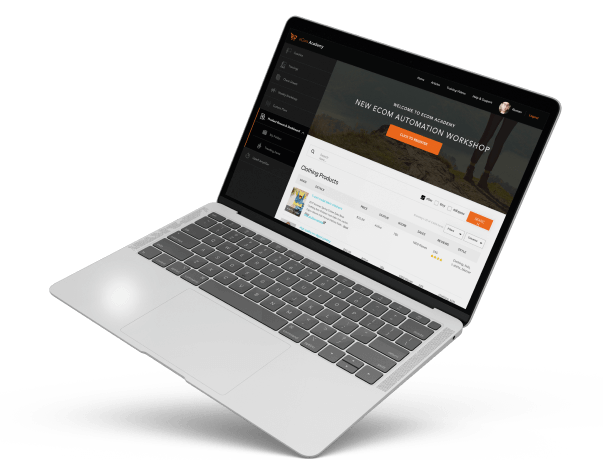 Realization
The purpose of the application we designed for the eCom Dudes is to help all eCommerce store owners find profitable niches, learn from the experts and create their own thriving storefronts. Checklists, video courses, live Q&A training and an active eCommerce mastermind group provide all the education and communication students need to thrive.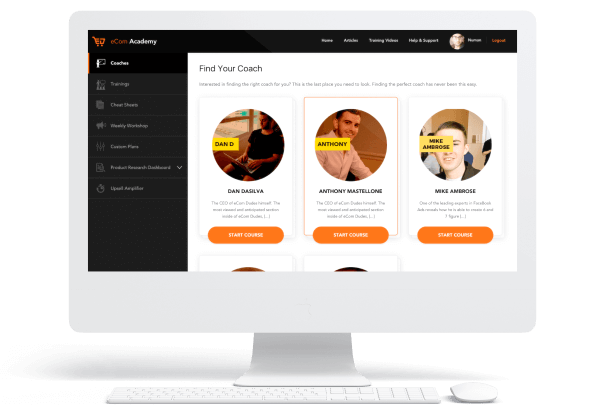 Coaches
The ECom Dudes Academy platform features the instruction of five different coaches, each one an expert in his unique field of eCommerce development, giving students the chance to learn from players at the top of the eCommerce industry. An essential part of the web application development process was finding a way to connect students with their chosen instructors through weekly workshops, prerecorded content and live Q&A training.
Training
Video content is a cornerstone of the eCom Dudes Academy, so each instructor has his own course portal for students to learn from. We also developed interactive action maps to help students at all levels work sequentially through their coursework in a logical way that is easy to navigate. It was essential to allow for real-time interaction between instructors and students to provide the most up-to-date and hands-on training possible.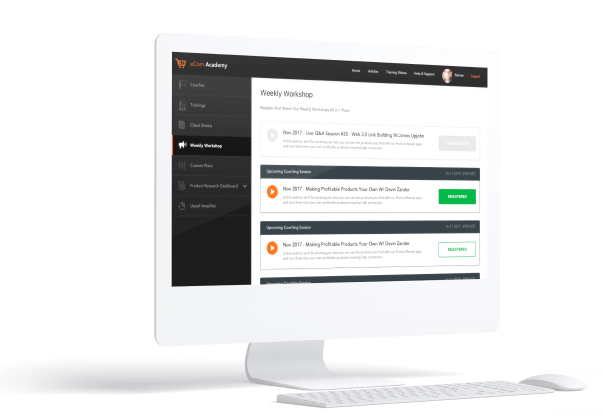 Weekly Workshop
All eCom Dudes Academy students have access to weekly workshops with course content aggregated for easy access at any time. The dashboard makes it easy for students to learn at their own pace, catching up on any workshops they may have missed. Each workshop section carries over the strong branding throughout the eCom Dudes website, facilitating client trust and readability.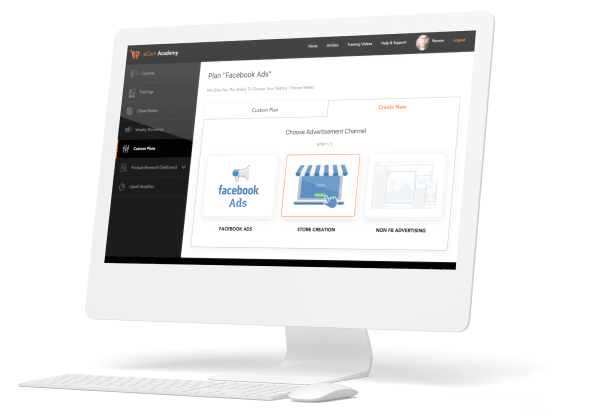 Custom Plans
When we began working on the eCom Dudes application, we immediately realized that customization was going to be key. Each student has access to customized training plans, making it easy to focus on Facebook ads, Google Analytics, product choice and more. For this reason, we chose a platform that allows users to instantly create new Facebook advertisements, storefronts and non-Facebook advertising. The custom plan also allows students to choose between Beginner, Intermediate and Advanced to ensure that they are receiving instruction appropriate for their skill levels.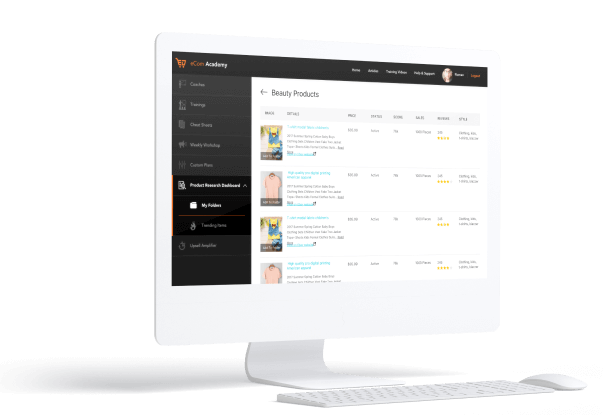 Product Research
Product research is by far one of the aspects of eCommerce that newcomers find the most difficult, so the product research system we built for the eCom Dudes prioritizes categorization and ease of use. A straightforward profile creation system makes it simple for new users to get started with niche product research. Students create folders to store and organize products for each storefront, making it possible to keep track of items currently on sale, new products, specific categories and top sellers.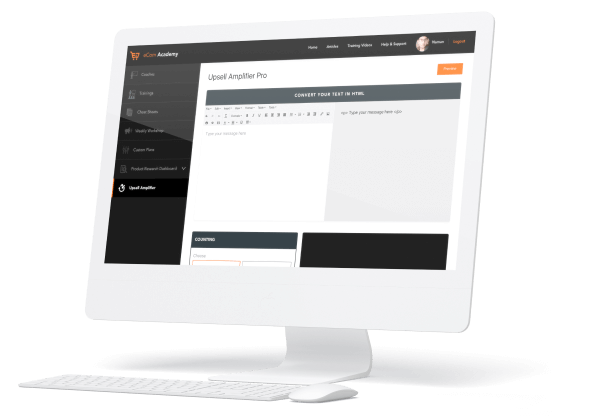 Upsell Amplifier
One of the biggest sources of frustration for eCommerce store owners is the struggle to turn a one-time sale into repeat business. The Upsell Amplifier addresses this problem by allowing users to generate high-converting upsells once a customer has made a purchase.
Conclusion
The eCom Academy web application is an exercise in versatility and streamlined design. From the moment of enrollment, our goal was to ensure that students had all the quality information available through the various instructor courses available at their fingertips. From a simplified product research system to an online database of high-quality video courses, the application prioritizes learning at each student's own pace.