Diamond Mine Jewelry Website
Diamond Mine Jewelry Website
Diamond Mine is an online store that sells engagement rings, wedding bands and gemstone jewelry of all kinds. Customers have the option to buy rings online or customize their engagement rings. Diamond Mine wanted a jewelry website design that had the sparkle, romance and thrills that go with every proposal. They wanted an easy interface that would make ring buying a joy.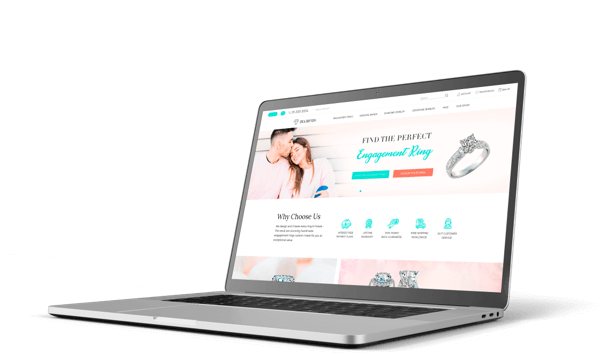 Style and Vibe
Because this store sells jewelry that's known for its sparkle and its association with romance, we wanted a look and feel that would reflect those things. We wanted it to be bright, pretty and upbeat. It's clear we made it happen with:
Open, airy design with plenty of bright, white spaces.
Large picture of each ring showing every sparkling detail.
Clear pastel colors that evoke joy and excitement.
Custom Design and Graphic Elements
We wanted to reflect the happiness, surprise and amazement that go along with a proposal. Instead of staged, formal photographs, we chose candid shots of actual customers who were totally thrilled with their rings.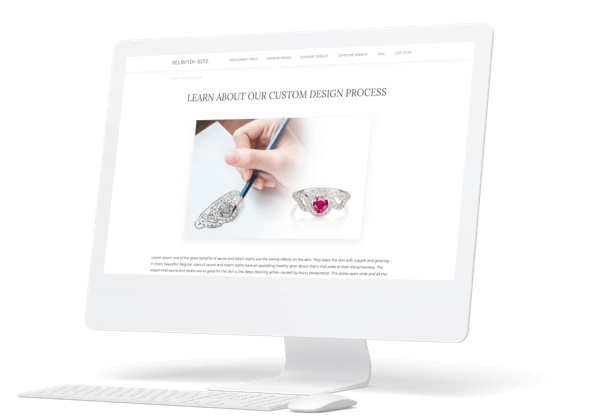 We took extra care with the ring graphics
In some cases, we actually drew the ring by hand to show every etching and facet in perfect detail. We then scanned the images into the design. The result is a clear, detailed picture of each ring that shows its brilliance.
Navigation
We installed preview icons on every ring image and at every buying option. When scrolling to the rings, a large info-graphic reminds customers all the advantages that on Diamond Mine can offer.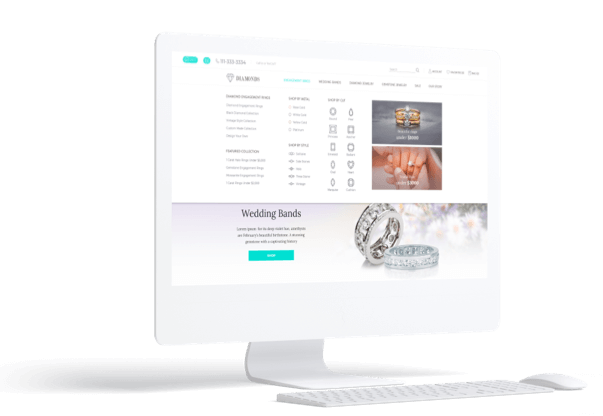 Sub-menus
This instantly answers most of the concerns people have about buying jewelry online. Once they know that, customers are more comfortable moving onto the sub-menus. Inside each menu is a rich mega menu that is fully editable. The large, bright menu icons are inviting. Customers can't wait to click on them to see more gorgeous, sparkling jewelry.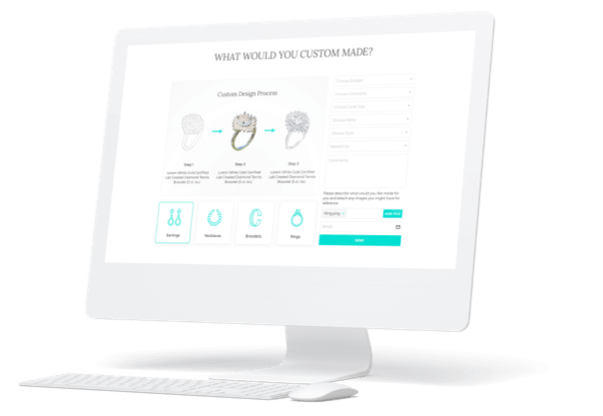 Functionality
Here's where the process really becomes innovative and fun. Customers have the option to purchase beautiful rings or customize their rings. This jewelry website design meets their needs with an intuitive menu that makes customization easy. Any customer can choose the metal, the shape, the gemstone, the color, the style, the type, and the carat size of their ring to create the one that's perfect for them.
At Sun Web Design, we specialize in custom website design and development.
We can create a website that looks and works perfectly for your business. We'll help you shine as bright as a diamond, all you need is to
contact us today